May is National Wildfire Awareness Month in the U.S.
May 1 is Wildfire Community Preparedness Day in Canada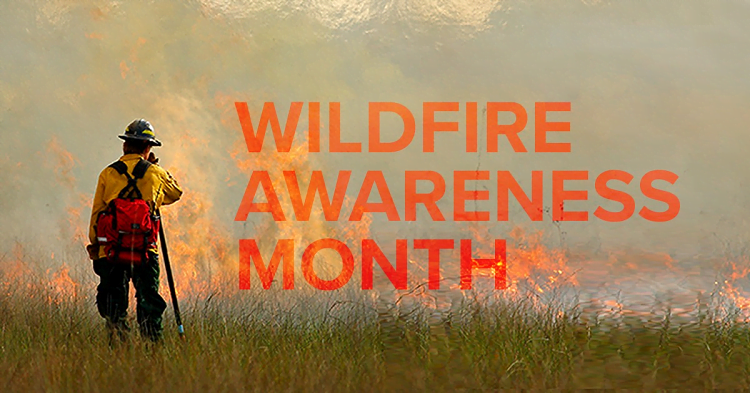 Where people and forests come together, wildfires are an issue. Wildland fire can threaten public safety and damage or destroy homes and other property. In extreme cases, community evacuation is sometimes required.
We've seen more and more wildfires in recent years, which many experts attribute to the changing weather patterns and drying effects of global warming. According to the U.S. National Interagency Fire Center, humans cause an average of 68% of fires per year in the United States. Those human-started fires consume 2.8 million acres of forest each year or about 30% of the total, with the rest caused mostly by lightning strikes. One thing's for sure, in the face of a growing risk of wildfire, everyone can benefit from thinking like firefighter, especially by embracing a preventive mindset the more we live and play in forested areas.
Certainly, prevention is one of the broader goals of initiatives like National Wildfire Awareness Month in the U.S., and these efforts go back to the 1940s with one of the most successful and longest running public service campaigns ever, Smoky Bear. In Canada, organizations like FireSmart (Firewise in the US) have been building awareness of the issue and empowering people to play an active role in wildfire prevention since 1990.
With the increase in wildfire incidence and an acceleration of home and community building in close proximity to wildlands, it's more important than ever that everyone who lives, engages in outdoor sports and hobbies, camps or even simply travels in fire prone areas during high risk periods be well informed.
Of course, people who have homes in wildfire risk zones have the most to lose – and the biggest role in prevention. Firefighting professionals have learned a lot about protecting homes from wildfires, often from the hard evidence found around homes that successfully survived a fire when neighboring homes did not. The United States Fire Administration promotes simple ways to prevent a wildfire from affecting your home and community, including:
Reduce flammable materials and brush around your home
Protect your roof: Trim back branches and remove any leaves, needles, and sticks from your roof and gutters.
Move firewood piles and small propane tanks at least 30 feet away from your home (and your neighbors!); the same goes for stacks of construction lumber
Embers can get into an unprotected porch or through vents. To prevent this, install 1/8" screens over openings
Learn more about defensible space, the buffer zone you create around your home that serves to insulate it from forest fires