Categorizing our "patients," or structures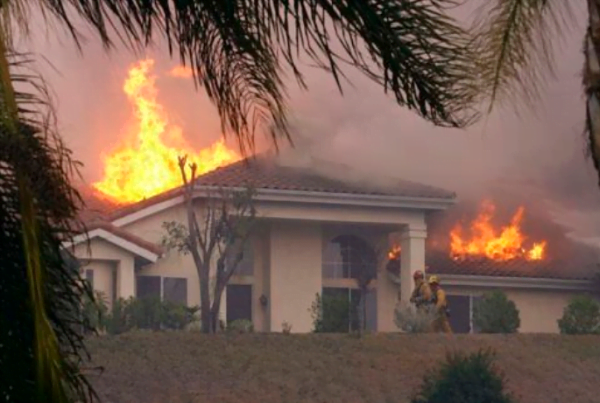 By Rich Cowger, FireRescue Magazine Volume 7, Issue 6
In a recent article, I reviewed the concept of pre-incident structural triage in the wildland/urban interface (WUI) and the tasks you should complete during your assessment of the neighborhoods and structures in your area. Performing this type of structural triage will help your department get a good feel for the challenges it could potentially face if and when a WUI fire ignites. I also noted that the best time to do this is when you have some down time or quiet time, because it allows you to work with the homeowners to mitigate any issues before an incident occurs.
However, we all know that when we preplan during down time, many of us take into consideration only the best-case scenario: early fire detection, full staffing levels, quick mutual aid, average weather conditions, etc. But the reality is that when a WUI incident starts, none of those conditions may be present! WUI incidents always seem to happen according to Murphy's Law—when the wind is blowing strong at mach 1, staffing levels and humidity are at their lowest, temperatures and fuel loads are at their highest, etc.
If we're only prepared for the best-case scenario, we may be forced to perform structural triage as the incident is occurring—sort of like medical triage during a mass-casualty incident. In such cases, structural triage involves a rapid assessment of conditions to determine whether a structure can survive the oncoming WUI fire based on the amount of intervention given in a short period of time.
Key Preplanning Considerations
One of the most important things we can consider during our WUI preplanning is the need for mutual aid. Most homes are lost in the early hours of large WUI events, so as robust as a department may seem, it will most likely need assistance immediately. If mutual aid isn't requested automatically, it should be done as soon as possible. When homes are threatened, resources can get stretched thin right away. And although multiple actions and tasks will be occurring simultaneously—potential evacuations, structure protection, wildfire control, incident command, air operations, water supply and possible EMS—we still have to tend to other emergency calls that will be coming in.
Given all the resources on scene, our preplanning should also include developing some sort of document that we can provide to incoming resources that includes crucial information, such as where they will be operating; communications information; special concerns for the area, such as water supplies or residents with special needs; and brief triage sheets that you've already completed regarding the structures in those areas.
Remember: A WUI incident is a rapid-fire incident. As we lay out the plans for the tactical operations for this event, it's imperative that we make quick but well-thought-out decisions that reflect life safety issues for both responders and citizens first, followed by property conservation.
Triaging "Patients"
On the engine operations side of things, if we look at our "patients," or structures, during a WUI event, our training teaches us to categorize the patients in ways that allow us to better "care" for them.
Green category: These properties could be likened to the "walking wounded." The homeowners have put effort into mitigating the hazards of these structures, so they will more than likely survive the event without extensive firefighting efforts or intervention. These homes are often built out of fire-resistive materials and landscaping, and they'll have a good amount of survivable space around them, will be visible from the street, and feature good ingress and egress routes. With these types of homes, we can focus our efforts on simply stopping the fire from encroaching on the property, if needed. These types of properties can also act as possible safety areas for our folks if crews need to pull back and wait for the fire to pass.
Yellow category: These homes may need some attention from an engine company that includes moving flammable lawn furniture away from the property or removing a wood pile from near the structure. Access may be a little more limited, as the driveway may be long or narrow, making it difficult for apparatus to pass each other. And these homes may need some routine patrols during or after the fire front has passed. If enough resources are on hand, it may be wise to station an engine at the location to extinguish any small fires that could ignite from embers in the air. As with the green category, these types of properties won't have many issues, so they may also be considered for use as a safety zone, as firefighters may be able to ride out a blow-up without too much trouble.
Red category: These are the immediate patients that will require some fast, effective work on our part in a short period of time. This may entail physically removing hazards, such as the wood piles, "stuff" that people collect around their homes or actual fuels, such as trees and/or brush that may be growing near or up against the home. Unlike the previous categories, with these homes, we will need to ask the question, will the amount of time and resources needed to protect this home really make a difference in its survivability? More than likely, these areas will not serve as safety zones, so crews will have to get in, get their work done and get out in time to get to a safety zone or move on to the next victim. Further, these types of homes will definitely need attention after the fire event. Crews will need to be able to go back as soon as possible to clean up around these structures, as more than likely there will be some lingering issues either from collateral fires or embers lodged in vents or decks.
Black category: Unfortunately, these are the dead and the dying in the triage system. These structures simply cannot be saved. The homeowner has not done anything to mitigate hazards, the home may be built mid-slope or at the top of a chimney or chute, and there may be only one means of ingress/egress, but it's often overgrown with vegetation, which makes it impossible for apparatus to use. There is no safety zone or any way for firefighters to retreat quickly if needed. Simply put, these homes will require too much time, effort, resources and risk to affect any positive outcome. Just as in medical triage, given the conditions, we must commit our resources to other structures and places that we think we will have a positive outcome. We simply cannot risk harm to our firefighters if the homeowners haven't taken responsibility for their home's safety and survivability.

Things to Remember
When a WUI fire occurs, we must keep in mind all of our preplanning. If we haven't had the opportunity to preplan an area, then we have to rapidly assess the area and structures while the incident is occurring and keep firefighter safety in mind at all times. Remember: Structural triage is much like medical triage when it comes to deciding where to dedicate our efforts.
Don't get caught up in the moth-to-the-flame syndrome: If a structure catches fire and we can't extinguish it with quick knock-down tactics, move on, as more often than not, there won't be enough resources available to fight an offensive structural firefight and the wildland fire and perform all the other tactics that will need to occur simultaneously.
Most importantly, maintain situational awareness at all times and think decisively—remember that possessions are important, but they're not worth a firefighter's life.
Stay safe this fire season and make sure everyone goes home!
Rich Cowger is chief of Columbus (Mont.) Fire Rescue, a combination department that serves a 375-square-mile area. He started with the department in 1993 and progressed through the ranks, becoming chief of the department in 1999 as a volunteer, and the department's first full-time chief in 2008. Cowger currently serves as chairman of the Montana State Fire Chief's Association and sits on the state's wildland policy committee, as well as the Eastern Zone Mobilization Board for the NRGC. He's red carded as a structure protection specialist with a Type 2 incident management team, and is active in the Western Fire Chief's Association, the IAFC and VCOS.