Remembering our fallen firefighters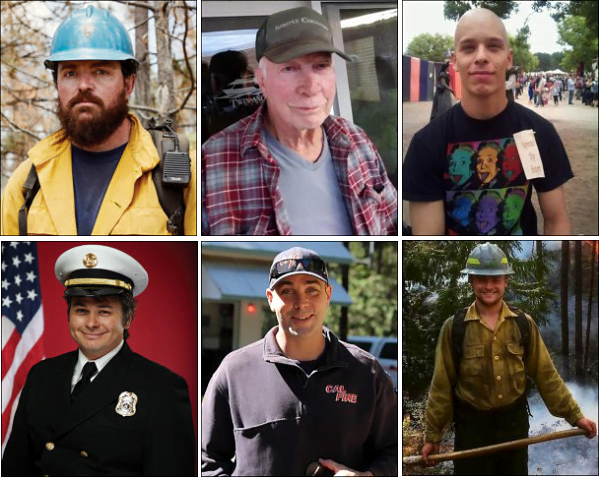 National Fallen Firefighters Foundation
EMMITSBURG, MARYLAND – The 38th National Fallen Firefighters Memorial Service was held on Sunday, October 6, 2019, to honor 92 firefighters who died in the line of duty in 2018 and 27 firefighters who died in the line of duty in previous years.
Here is a list of those honored:
Arizona
California
Andrew J. Brake | Anthony "Tony" Colacino
Brian Corcoran Hughes | David T. Moorman
David R. Rosa | Donald Ray Smith | Jeremy Stoke
Braden Gordie Varney
Colorado
Georgia
Stacey Leigh Boulware | Earnest M. McDuffie
Adam Chadwick Taylor
Illinois
Indiana
John C. Butler | Jeffrey D. Holt
Iowa
Kansas
Kentucky
Jeffrey L. Crossfield | James K. Donnelly
Richard F. Gossman | Ronald Keith Helton
Ray Hollingsworth
Louisiana
Maryland
Mitchell D. Dobbins | Nathan E. Flynn
Daniel Lee "Danny" Lister | Christopher C. Pryor
Massachusetts
Michigan
Michael J. Lubig | Robert J. Phillips II
Minnesota
Mississippi
Robert L. "Bobby" Dunaway | Dustin W. Grubbs
Randall Glen Yeatman
Missouri
Montana
Nevada
New Jersey
Gene M. "Gussy" Dannenfelser
Natalie Nicole Dempsey
Pasquale Peter DiBenedetto | Michael G. Galay
Craig Allan Maull | Thomas D. Miserendino
New Mexico
New York
Raymond W. Alexander | Robert W. Alexander
Howard Bischoff | John L. Buhler | Carl Capobianco
Gregory A. Chevalley | Michael R. Davidson
George F. Froehlich | Vanclive A. Johnson
Robert J. Lembo | Emilio R. Longo | Jimmy Martinez
Brian J. Masterson | Mark W. McKay
Joseph D. McKeon | Edward T. Meehan
Steven C. Mosiello | Kevin A. Rooney
Michael Paul Smith Jr. | Roy E. Smith
Ronald R. Spadafora | William R. St. George Sr.
Ronald P. Svec | Paul R. Tokarski | Walter Torres
Thomas R. Van Doran
North Carolina
Michael Gene Goodnight | Jeffrey Newton Holden
Michael Eric "Bubba" Pennell
Romulus S. "Tony" Spencer III
William Perry Willis
Ohio
Rodney D. Baker Jr. | Daniel Joseph Lucius
Oklahoma
William F. Brinza III | Madison L. Clinton Jr.
Oregon
Eric C. Aarseth | Mark James Burns
Pennsylvania
Zachary John Anthony | Scott W. Dannheimer
Ivan Kenneth Flanscha | Michael Godzak Jr.
Benny R. Hutchins | Gabriel G. Lee
Matthew LeTourneau | Michael T. Reese
Rhode Island
South Carolina
South Dakota
Tennessee
Jason Wade Dickey | Richard Chalmers McCormick
Texas
Devon D. Coney | M.V. Hudson Jr.
Richard Andy Loller Jr. | Larry Marusik
William M. Thompson
U.S. Virgin Islands
Utah
Vermont
Virginia
Dennis Lynn Brent | Bradford T. Clark
James Pierce Kegley Jr. | William H. Moore IV
Anthony R. Whetzel | Herbert T. "Butch" Wilcox
Washington
Walter "Duffy" Burns Jr. | Timothy D. Cruger
Marvin E. Larry | John Olaf Swobody
West Virginia
Thomas Ray Craigo | Michael J. Edwards
Wisconsin
Cory James Barr | Richard L. Garner Jr.
Philip H. Neubich Sr. | Christopher P. Truman