Lessons learned from a August 2019 wildfire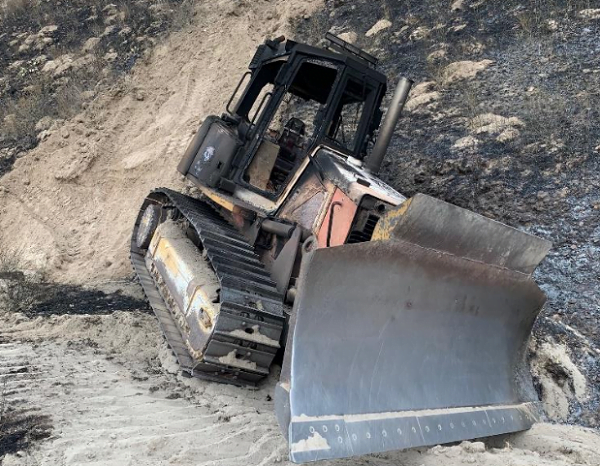 Wildland Fire Lessons Learned Center
In the early afternoon hours of August 6, 2019, Mountain Home Air Force Base Range Control reported a fire incident to Bureau of Land Management (BLM) in the Twin Falls District.
The fire was located within and adjacent to the United States Air Force Saylor Creek Bombing Range approximately seven miles south of Hammett, Idaho.
The property is owned by Department of Defense but is protected through agreement by the BLM. Numerous federal resources were dispatched to the incident. Cooperators, including Rangeland Fire Protection Association (RFPA) resources also reported to the scene after being notified by BLM.
Remote Automatic Weather Station (RAWS) data from a nearby site show conditions during the incident included the following:
Prevailing winds 4-9 mph out of the north/northwest with gusts up to 17 mph
Afternoon high temperatures reached 100° F
Relative humidity wa saround 15%
Initially the fire had two divisions: Division Alpha (A) on the east flank,and Division Zulu (Z) on the west flank; later in the incident, Division Lima (L) to the south was established.
All divisions were staffed by a combination of federal, and cooperator resources, including RFPAs. The head of the fire was pushing to the southeast, and the heel of the fire was backing slowly to the north/northwest.
An RFPA Dozer arrived on scene in Division Z,and the Incident Commander (IC) instructed the dozer operator to begin direct line construction from Hot Springs/Bombing Range Road northward toward the heel of the fire.
The operator reported to the Lessons Learned Review (LLR) team that the doze rhad overheated two or three times while constructing the line. In each instance, the operator allowed the equipment to cool before proceeding. The operator stated that approximately three hours into the operation while attempting to cross a drainage filled with dry tumbleweeds,the machine overheated again and went into limp mode, de-rating the power.
At the same time, the fire reached the dry tumbleweeds. The fire intensity, heat, and flame length increased quickly and dramatically. Without sufficient power(in limp mode),the dozer was unable to move quickly enough to escape the approaching fire,and the operator jumped out and retreated to the burned (black) safety zone.
The operator escaped with onlysinged hair on his hands and head.
Read the Report: 2019 Pothole Fire: Dozer Burnover