Various groups work to replace homes lost in wildfire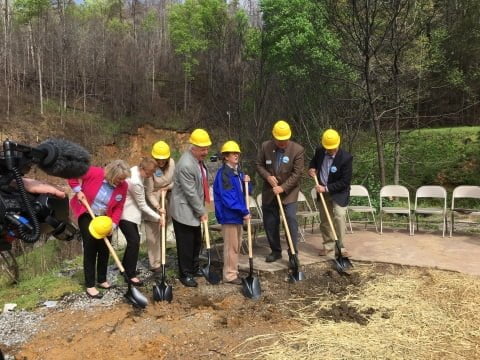 Members of the Mountain Tough Recovery Team, the Appalachia Service Project and area leaders break ground on a new home for Glenna Ogle (blue jacket) in Gatlinburg, Tennessee on Tuesday morning. (Photo: Business Wire)
GATLINBURG, Tenn.–(BUSINESS WIRE)–Apr 25, 2017–Representatives from the Mountain Tough Recovery Team (MTRT), the Appalachia Service Project (ASP), and various community leaders today broke ground on the first new home constructed in Gatlinburg as recovery efforts from the November 2016 wildfires continue.
The ASP joined forces with the Holston Conference of The United Methodist Church following the fires in a joint partnership to build 25 new homes to replace those which were lost. The MTRT is helping guide the effort. With short-term recovery assistance ending, the MTRT has been tasked with developing a long-term plan to help assist uninsured or underinsured individuals and families by providing resources or other unmet needs.
"On behalf of the Mountain Tough Recovery Team, I am delighted to share our excitement for our community with the ASP first home build," said MTRT Chair Ellen Wilhoit. "This is a wonderful day as we continue this journey to recovery for those impacted by the fires. We are blessed with outstanding community spirit. Such positive actions of teamwork and togetherness will make an amazing impact on the quality of life for all being served.
"We will be working with all who need assistance, prioritizing the most significant unmet needs first. We are using a holistic approach to address these needs and assist the families back to a 'new normal' quality of life. Our case managers will work to navigate recovery for the survivors on a case by case basis to identify gaps, goals and options for each survivor's unique situation. Mountain Tough will assist with housing needs and other unmet needs identified following the fire, as appropriate. Our team of volunteer leaders is honored to assist those in need and will work diligently to assist."
With a long history of helping families across the Appalachian region, the ASP was ready to spring into action to work with the MTRT after the unprecedented wildfires.
"Appalachia Service Project is honored to partner with the good people of Sevier County to rebuild homes for low-income families who lost theirs in the wildfire of November 28," Walter Crouch, CEO of ASP said. "For almost 50 years, ASP has served families in need throughout the five-state region of central Appalachia. Building energy efficient new homes at little or no cost for these families not only gives them a great place to live but also creates an asset around which they can rebuild their lives.
"It is our hope that this first group of homes is only the beginning of a recovery effort that enables all those who have little or no resources to rebuild and stay in East Tennessee. We invite all those who want to help in this effort to contact us through our website at www.asphome.org."
The thankful recipient of the first new home said it truly is a Godsend. "It means everything in the world to me," said Glenna Ogle, as she fought off tears. "It's God's blessing. I could never have built it back myself."
Families who lost their homes were able to submit an application to ASP for consideration of receiving one of the 25 new homes. To apply, families had to have a home damaged beyond repair due to the fire, a total household income below 100 percent of mortgage revenue bonds, did not have homeowners' or renters' insurance, or were demonstrably under-insured. MTRT caseworkers ensured the rebuild candidate met these qualifications and received some monetary FEMA assistance to help in the rebuild. The cases are then prioritized for vulnerable populations to receive assistance first. These populations typically include seniors, families with small children, single-parent households, people with serious pre-existing health challenges and people living on or below the poverty line.
The MTRT is attempting to assist residents of Sevier County affected by the November wildfire who are property owners, uninsured or greatly underinsured, and received some monetary FEMA assistance to help in the rebuild of their homes. While these cases are currently top priority, the MTRT will have an ongoing process to consider the critical unmet needs of other households affected by the wildfire. The MTRT office will be located in Gatlinburg.
Anyone who wants to help the Mountain Tough Recovery Team with their efforts should visit www.mountaintough.org for information on how to donate, how to volunteer and much more. The website is the official source for all information regarding the recovery effort.
—#mountaintough—
For media inquiries, please email media@mountaintough.org.
About the Mountain Tough Recovery Team: The mission of the Mountain Tough Recovery Team is to assist individuals and families recovering from the 2016 wildfires in the Gatlinburg and surrounding Sevier County area to rebuild and provide resources for other unmet needs for the uninsured and underinsured low-income families and individuals. The team's vision is to offer a sense of hope and renewal for Gatlinburg and Sevier County residents affected by restoring their quality of live and providing for their long-term needs. For more information about how to help the Mountain Tough Recovery Team, please visit www.mountaintough.org.
Copyright Business Wire 2017.