National Oceanic and Atmospheric Administration tools can help fire departments detect wildfire and forecast smoke spread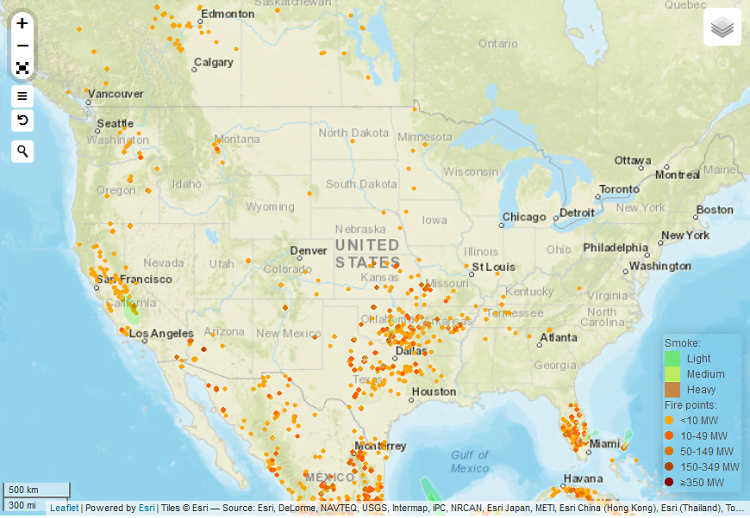 United States Fire Administration
The National Oceanic and Atmospheric Administration (NOAA) had a successful year of research and development in the area of detecting and predicting the impact of wildfires and wildfire smoke.
NOAA's Office of Satellite and Product Operations (OSPO) continues to improve its Hazard Mapping System Fire and Smoke Product with the latest fire and smoke monitoring methods and satellite data available. The product provides near real-time maps, fire data statistics and data sets for monitoring wildfire and smoke positions; however, data can be skewed by cloud cover, terrain and light and heat emitted by factories.
In addition to early detection of wildfire, predicting the behavior of wildfire smoke is a powerful capability for mitigating wildfire's impact on public safety and health. NOAA recently finalized a smoke model with predictive capability, the High Resolution Rapid Refresh-Smoke (HRRR-Smoke). The HRRR-Smoke can accurately forecast the behavior of wildfire smoke and its impact on weather. The experimental version played a pivotal role in mitigating the impacts of wildfires last summer.
Since being transferred to the National Weather Service (NWS) Operations Center on Dec. 2, 2020, HRRR-Smoke now utilizes NWS's powerful computing capabilities and a fleet of weather models to produce a new weather and smoke forecast every hour.
These NOAA tools are useful to anyone in the Emergency Services Sector with a need to monitor and predict the impacts of wildfire smoke, including:
Emergency managers and public health officials who need to monitor public health hazards and inform their public on mitigating the impact of wildfire smoke, especially in light of the combined health risks of wildfire smoke exposure and COVID-19.
Researchers who need this data to identify any possible links between wildfire smoke and the rate of hospitalizations for lung-related conditions in their area.
Those responsible for determining safe conditions for prescribed fire as a mitigation best practice.
Successfully mitigating the impacts of wildland fires depends on early detection. Consider using these tools to monitor and predict the impacts of wildfire on your community.