"This is rapidly becoming very ugly,"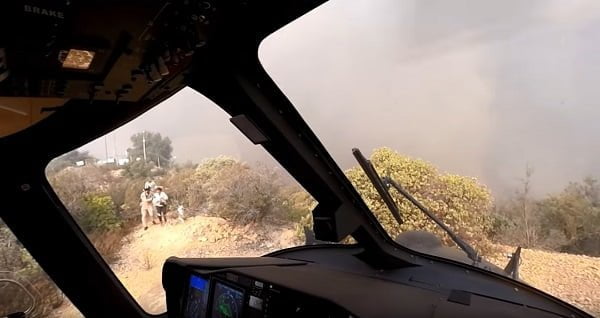 LOS ANGELES (AP) — The Los Angeles Fire Department has released video of one of its helicopter crews rescuing people from a mountain peak as a huge wildfire bore down last week.
The video was recorded Nov. 9 as LAFD Air Operations pilots David Nordquist and Joel Smith battled the Woolsey Fire, which was raging through the Santa Monica Mountains toward Malibu.
The crew was making a water drop when it was requested to divert to Castro Peak to rescue two people. They headed that way despite dwindling fuel.
With smoke darkening the sky, they hunted for a landing spot among antenna towers, service buildings, vehicles and vegetation.
They finally found a spot among brush. Smith jumped out and returned with three people and two dogs.
Nordquist then lifted off in search of fuel.
LAFD: LAFD Pilots Make Daring Mountain Rescue
All contents © copyright 2018 Associated Press. All rights reserved.