Wildland fire involves an apartment building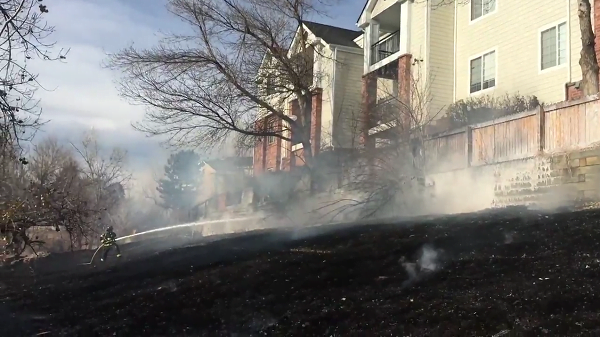 South Metro Fire Rescue PIO – At 1:38 p.m. on Monday November 27, 2017, South Metro and Littleton Firefighters were dispatched to numerous reports of a fire in the 6800 block of South Ivy Way.
911 callers reported a wildand fire and apartment building on fire.
When crews arrived at 6853 S. Ivy Way they found a vegetation fire that already spread to a fence line and was threatening structures. Firefighters were able to quickly control the flames on the ground as well as smoldering leaves the rain gutters on the buildings, likely sparked by flying embers.
Thankfully no injuries or damage to the buildings occurred.
As Firefighters were dousing hotspots they discovered a small rodent in the burned area, tired and covered in soot. After a little fresh water it was placed in a safe, unburned area of the open space.
Although the cause of the fire is under investigation this incident serves as a serious reminder that fire danger can be high even in the winter months.