In support of the Oklahoma State University mission, and in partnership with the International Fire Service Training Association, the mission of Fire Protection Publications is to be the fire service leader in producing high quality, technically accurate, state-of-the-art, and affordable fire training and educational materials.
Leadership for the Wildland Fire Officer: Leading in a Dangerous Profession, 2nd edition
The 2nd Edition of Bill Teie's Leadership for the Wildland Fire Officer – Leading in a Dangerous Profession has been developed to address various supervisory and leadership positions of wildland firefighting outlined by the National Wildfire Coordinators Group (NWCG). 
This book is aimed toward new and experienced wildland firefighters who serve in a leadership role within their organizations. Chapters 1-5 are an excellent tool for any current or future leader in fire service. Chapters 6-9 deal with the situational and tactical processes a wildland fire officer faces daily. Following Chapter 9 is an addendum containing 15 after-action reports of "Fires We Should Not Forget" as well as the lesson learned from each fire. 
No Results Found
The page you requested could not be found. Try refining your search, or use the navigation above to locate the post.
If you would like more information about IFSTA, please fill out the contact information below.
"*" indicates required fields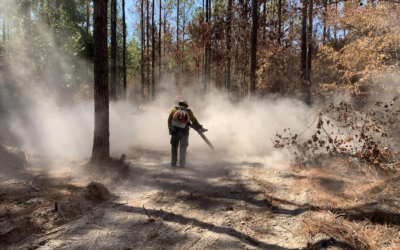 By SARA CLINE Associated Press BATON ROUGE, La. (AP) — Louisiana, typically one of the wettest states in the country, is on fire. In communities often challenged by flooding and hurricanes this time of year, firefighters instead are fending off 300-foot-tall (91.44...