The origins of the MARK-3® pump can be traced back to the earliest days of the company, called WAJAX at the time, with the creation of the DDVC water pump in 1929. As technology and techniques developed in the following decades, so did our industry-leading water pumps, culminating in the creation of the MARK-3® in the 1960s. Today, as we launch the MARK-3® Watson Edition, WATERAX is proud to continue the line of excellence.
WAJAX DDVC
The predecessor of the centrifugal pump was the WAJAX DDV series (positive-displacement water-cooled). The last unit was manufactured and sold in 1954. This model was in use approximately 40 years prior to the introduction of the centrifugal pump series. Weight: 100 lbs (44 kg)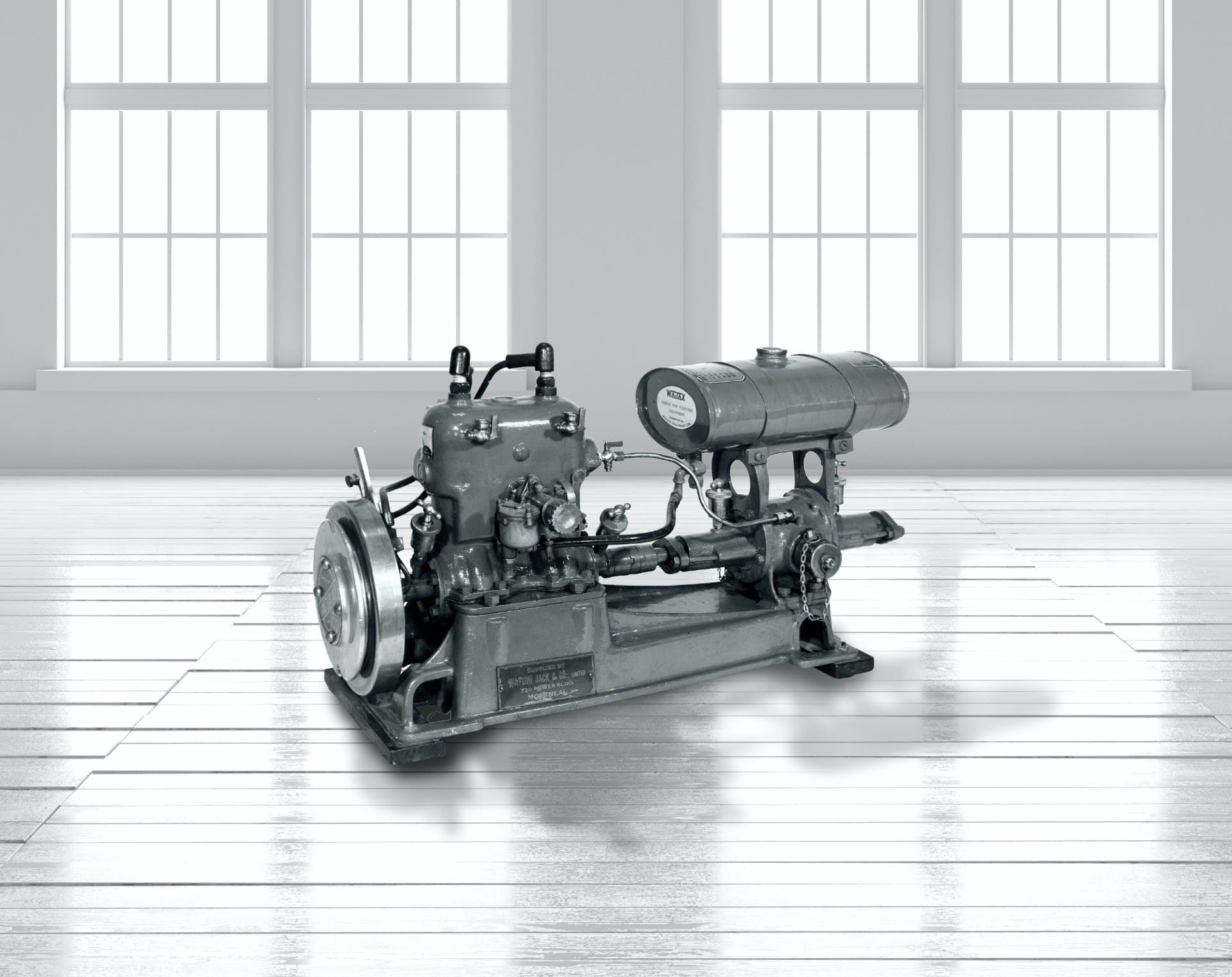 WAJAX DDVA
The WAJAX DDVA was developed from the "DDV" model, introduced by Watson Jack Limited in the 1920s. The letter "A" in "DDVA" indicates the use of aluminum parts in its construction. The DDVA was an internal-rotor, positivedisplacement pump connected to a two-cycle vertical-in-line twin-cylinder, water-cooled engine. Because of the aluminum parts, the dry weight of the DDVA is approximately 75 pounds (34 kg), a decrease of 25 pounds (11.3 kg) compared to the earlier model DDVs. Weight: 100 lbs (44 kg)
WAJAX MARK-1
The WAJAX MARK-1 is a four-stage centrifugal pump coupled to a nine-horsepower, two-cycle, twin-cylinder, air-cooled Mercury engine. The engine is mounted on a tubular-steel base frame. The pump is attached to the engine by a lever-operated clamp, that was patented in 1958 and was designed in collaboration with McGill University engineers. Weight: 58 lbs (26.31 kg)
WAJAX MARK-2
The WAJAX MARK-2 with the ROTAX engine was introduced in 1960 as replacement for the discontinued MARK-1 after the Mercury engine was discontinued. Production continued on this model until 1962. Changes were then made to the base frame, engine cowling, carburetor and muffler. The Bing centre-float carburetor was replaced by a Tillotson all-position, diaphragm-type carburetor similar to that found on other WAJAX pumps. The engine cowling was extended to provide more protection for the cooling fans and spark plug. The spark plug cover and carburetor shroud resembled that presently being used on the WAJAX MARK-3®. Weight: 60 lbs (27.22 kg)
WAJAX MARK-2M
An upgrade to the MARK-2 unit was introduced in 1962, named the WAJAX MARK-2M (M for "modification"). It retained the single-cylinder, eight-horsepower, air-cooled 165cc ROTAXengine with Bosch magneto. Both units were equipped with automatic-rewind starters, manualstarter-rope pulleys, quick-connect fuel supply lines and separate fuel supply tanks. Both models also used the WAJAX four-stage centrifugal pump introduced with the MARK-1, which is connected to the engine by a leveroperated clamp, with the drive provided through a rubber coupling buffer.
The triangular shaped frame was replaced by the more familiar backpacking type of frame. The new base frame does not have to be removed in order for the pump to fit into a standard cargo drop container as was the case with the original MARK-2. The WAJAX MARK-2M is easily carried in the field by one man. It can either be handheld by the tubular-steel frame or the unit can be mounted on a pump carrying pack. Weight: 60 lbs (27.22 kg)
WATERAX MARK-3®
WATERAX acquired the intellectual property and the rights to manufacture the durable 185cc engine from ROTAX in 2014. The MARK-3® benefited from a series of improvements to its key components, namely a Nikasil-coated cylinder, an impregnated crankcase, and a maintenance-free pump end. The new Nikasil-coated cylinder is the most significant upgrade on the MARK-3® in years. The improved MARK-3® passed the USDA Forest Service 100-hours endurance test in San Dimas on 08/04/15 and was requalified under QPL number 274-001. Weight: 59.5 lbs (27 kg)
WATERAX MARK-3® WATSON EDITION
After 100 years of building pumps, history is worth repeating. The MARK-3® Watson Edition is the evolution of the iconic MARK-3® . WATERAX designed and engineered a purpose-built engine perfectly optimized for its new, smaller pump end made of corrosion-free composite material. The new 140cc engine has a higher-revving engine which means a superior power-to-weight ratio. With smaller impellers and improved hydraulics, the MARK-3® Watson Edition brings performance to lightweight fire pumps. For the first time ever, the pump features a modern user interface that is smart and intuitive. The composite base frame has an ergonomic design to improve health and safety. It provides easy loading and unloading of the pump as well as extended durability and a steady foothold for easy pull-start. Weight: 44 lbs (20 kg)