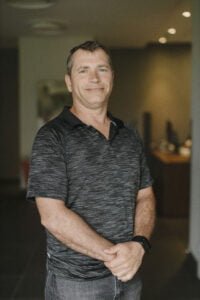 You worked for 10 years for the Royal Canadian Navy. Can you tell us about your position and your experience?
As a Marine Engineering Technician on a River-class destroyer, I was responsible for the safe operation of the boiler room to produce superheated high-pressure steam to supply the propulsion system, power generation, auxiliary equipment, distillation of boiler feed water and potable water, transfer of distillate, and at-sea refueling with Canadian and foreign tankers.
In your position at WATERAX, how do you draw on your experience in the Navy?
Together, the Navy's discipline and my professional training allowed me to gather technical knowledge on multiple types of equipment, like steam turbine driven pumps, diesel and steam driven generators, hydraulic systems and refrigeration compressors. This helped me learn the technical aspects of the equipment manufactured by WATERAX.
What do you like most about your position as sales manager at WATERAX?
The company's mission and the market we serve are very exciting, and the fact that WATERAX is constantly looking to innovate with new products makes it easy to support existing customers and prospect for new business. You took part in the Watson road tour.
What was it like meeting up with firefighters around the continent?
It was a privilege to have the chance to be part of this tour—with an awesome team—and be the first one to show wildland firefighters the new technology and innovation that will be coming to them in the very near future. The smiles and positive comments from all levels sure made it worth the 23,000 kilometers and the month we spent on the road!
"WATERAX is constantly looking to innovate with new products"
How do you see the introduction of the MARK-3® Watson Edition? What impact do you think it will have on wildland firefighters around the world?
The new MARK-3® Watson Edition will be a game-changer in the industry and for all wildland firefighters around the world due to all its new attributes—from its light weight and ease of operation to the new user interface which facilitates information gathering. The safety and training of wildland firefighters will be drastically improved with the MARK-3® Watson Edition.