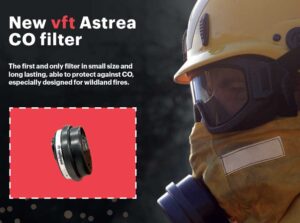 Vallfirest and Astrea Materials have developed the first and only filter for wildland firefighters capable of eliminating CO, Formaldehyde, and NOx.
One of the Top 5 Wildfire Smoke Hazards is Carbon Monoxide (CO), present at different stages in wildland firefighting operations.
How is CO produced?
Carbon Monoxide is produced by incomplete combustion of wood or other organic materials, due to lack of air to burn. All fuel needs a certain amount of oxygen to burn completely through the chemical oxidation reaction that causes fire and if this does not happen, this colorless, odorless, inaudible and highly toxic gas is generated.
Why is Carbon Monoxide toxic?
Carbon monoxide transforms the oxygen from hemoglobin in the blood to carboxyhemoglobin (COHb), which affects major and vital organs like the brain and the heart that require large amounts of oxygen to function properly.
New vft Astrea CO filter
The first and only filter in small size and long lasting, able to protect against CO, especially designed for wildland fires.
An exclusive and patented gold nanoparticulate formula, resulting from 15 years of basic research and industrial development.
Its nanostrucurated catalyst can remove the toxic compounds in a wildland fire with a 98% of filtration efficiency.