Elsbury Jr. had been running a skidder to help protect structures
Wildland Firefighter
GLIDE, Oregon – KPIC reports that a heavy equipment operator helping fight the Archie Creek Fire was found dead Friday morning in his vehicle, according to fire managers.
Walter "Wally" Samuel Elsbury Jr. had been running a combination logging skidder and fire engine known as a "skidgine" to help protect structures along the Little River Road south of Glide on the west flank of the wildfire.
InciWeb: Archie Creek Fire Updates
"Fire personnel found Mr. Elsbury unresponsive in his vehicle at a fire staging area Friday morning, September 18, 2020, before he began his shift as a heavy equipment operator," officials said in a statement. "The Douglas County Sheriff's Office responded and notified Mr. Elsbury's family. No foul play is suspected."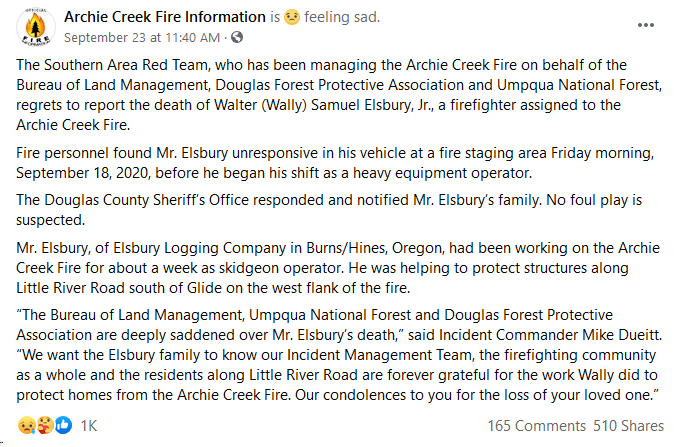 Elsbury had been working at the wildfire for approximately a week running heavy equipment for Elsbury Logging Company in Burns/Hines, Oregon.