Conversation between Sergi Pareja and Angelo Lorenzo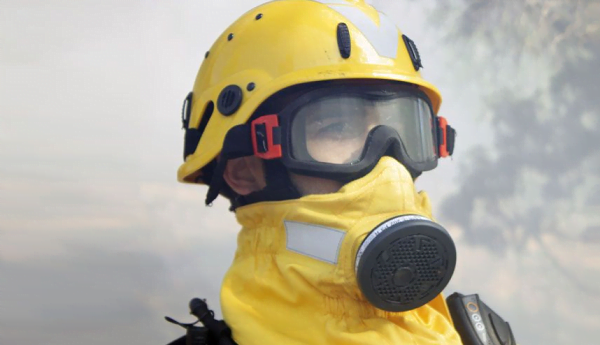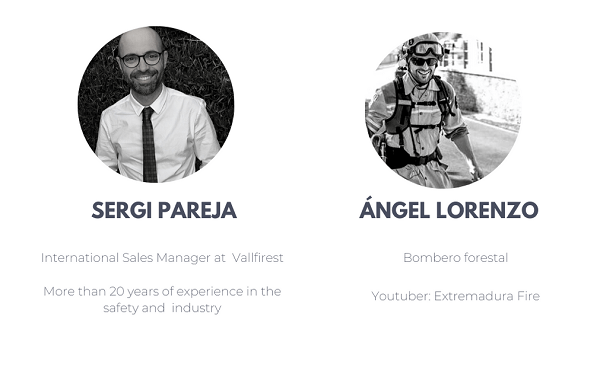 A.L: What are the occupational risks that wildland firefighters are exposed to?
S.P: Wildland firefighters have the same risks as a welder, because they are exposed to heavy metals, the same risks as a coroner, because they work with organic materials, perhaps with dead animals; They face the same dangers as a lumberjack from exposure to formaldehyde, or as a melter when it comes to heat stress. Their risk is comparable to that of a military officer due to exposure to biological threats, or that of a mechanic, from working with heavy machinery and tools, or that of a miner …
How do we choose a good respirator?
A.L: These days there has been a lot of talk about mask filter types: FFP1, FFP2, FFP3… How do we choose a good respirator?
S.P: Respiratory protection equipment does not protect based on the quality of the filter but rather by the ability to isolate us from danger: the seal is what makes the difference.
A.L: What evolution have you witnessed in the sealing?
S.P: Unfortunately they are not the ones that are coming from Asia to handle COVID 19, which is a top price product. But they are rather respirators that are manufactured for intensive use such as firefighters and being designed to fit up to 8,000 variety of faces, including women and men, between 16 and 70 years old, Caucasian, Afro-descendant, Asian, Indian, etc.. The Gaussian bell curve of adjustment is important. We will always have 3 percentile upper and lower to whom it will not serve. But responsible manufacturers are putting a lot of effort into facial recognition, and not only ergonomics but anthropometry as well, in order to get the respirator fit all users with surety.
A.L: In which areas do masks give more permeability problems?
S.P: In general they tend to close worse on the part of the alveoli; of the nose and on the cheeks. When the sealing is not correct, water vapor and carbon dioxide leak to the top, causing the glasses to fog.
A.L: Sure. Wildland firefighters are not just sitting around. Due to the characteristics of our work, we perspire a lot, steam can tarnish our glasses, and that is very annoying, in the worst case it can impede vision and make the firefighter decide to take off his mask to finish the job.
S.P:It is a serious mistake. PPE is classified into 3 categories: minor risks, severe risks or life threatening. Eye protection is considered category 2; Losing an eye is serious, but it doesn't take your life. Respiratory protection is classified category 3. Sometimes we don't realize it, because it happens in the medium or long term, but this negligence has fatal consequences.
A.L: How can we protect ourselves without losing comfort? Would the masks with integrated glasses used in structural fires work?
S.P: Mechanization is critical. We must not expose people, especially if they are not adequately protected by respiratory equipment. When respiratory stress increases, performance decreases. You put on a respirator and because of the low respiratory resistance it has, and regardless of how low the respiratory Pascals resistance are in the flow, it will immediately increase your heart rate, reaching up to 140 beats.
This will increase your breathing around 10-15%. If you put a full face seal on, the amount of carbon monoxide and water vapor you generate from breathing will stay inside the respirator, and what should be 21% oxygen inside will decrease. And it will drop down, from the 21 to the 20, to the 19 and when it reaches 18 you will take off your respirator because your own carbon dioxide is going to poison you, your head will hurt, it will make you dizzy and nauseous. Therefore, for wildland fires, the optimum would be to design a breathing apparatus that has low respiratory resistance. A silicone or thermoplastic half-face respirator that instead of having two filters, will have a single filter and two exhalation valves, so that carbon dioxide, at lower pressure, exits the respirator faster. These types of solutions are the ones that should be considered. But the real protection will be to keep wildland firefighters away from direct and continued exposure through mechanization.
A.L: Any advice?
S.P: Shave. The biggest enemy of wildland firefighters are the three axes: hipsters, heavies and hippies. For a good adherence, it is essential to have a well-shaved face. We are facing severe risks. Living with respiratory failure at the age of sixty or seventy is not a good quality of life.
A.L: What types of filters or masks should we use?
S.P: FFP2 filters should be prohibited to work in wildland fire. The minimum required protection should be FFP3. Wildland firefighters face gases, organic and inorganic vapors, amines, formaldehyde, mercury vapor, fumes, mists and nanoparticles, which are largely unknown.. The FFP3 are not infallible, they will not protect you against gases, for example, but the inward leaks are 1%, compared to the FFP2, which leaks 6%.
A.L: The next echelon?
S.P: The half mask. The filters that some call cellulose and that basically the filtering material is an electrostatic polypropylene, what it does is capture the particles by magnetization. On the other hand, a filter, placed in a half mask, is an absolute filter, an EPA filter like the one that can be found in air conditioners or vacuum cleaners, with a degree of filtration that can be up to 99.92% . It means that if it is well sealed, the nominal protection factor goes from 50 that a P3 has (think that a P2 has 12) to 200. We are talking about very good quality of protection. Currently there are masks that have disposable absolute P3 filters, with these we will never be exposed. We will know that the filter is collapsed when a resistance occurs when breathing, at that time it must be replaced, but the filtered contaminants will never get inside. This is the case of the Xtreme Mask, which also allows you to be doing a combat job with smoke wearing a P3 and change it to go to do a finishing function where you will have organic, where you will have slow, partial or incomplete combustion, that will expose you to formaldehyde and monoxide. There you will need an activated carbon filter. The potential of this half mask is the possibility of using different types of filters, even combined filters. The Xtreme Mask offers maximum versatility, it adapts perfectly to all types of wildland fire extinguishing work.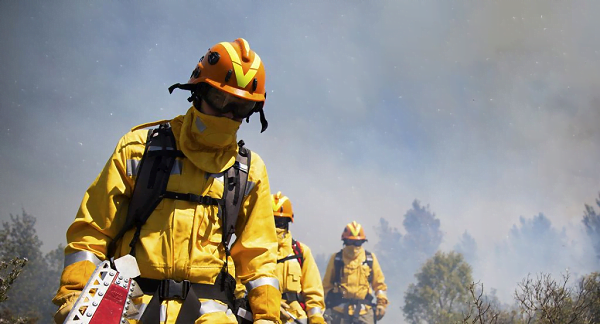 A.L: How do we know when to choose one filter or another?
S.P: For particulate work I suggest simply using an FFP3. It is light, very thermally resistant and will allow us to work comfortably. It is the same filter that the army could use in the case of CBRN (nuclear, bacteriological or chemical).If we are going to be exposed to gases, vapors you must replace it with a combined filter, which will have a carbon cap and a P3 always in front, to improve the useful life and protection against particles and nanoparticles of up to 0.4 microns.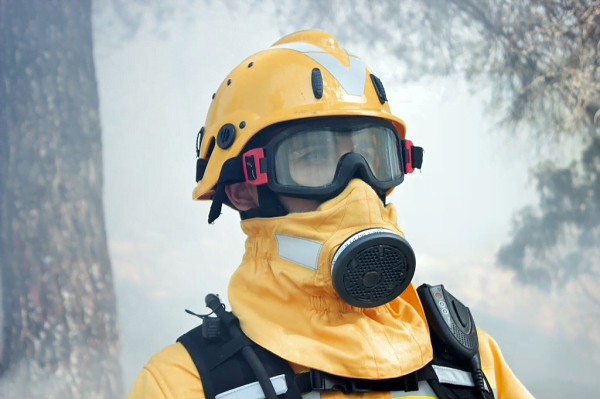 A.L: FFP3 filter, half mask … What is the next step?
S.P: The next step is to protect yourself against carbon monoxide. It is not a gas that you can filter with activated carbon, with the classic methods, which are not very heavy and are more or less economical. You have to dissociate it and for this you need a catalyst, as the automotive industry or mining guides us. But a catalyst is expensive and heavy. Therefore, in a carbon monoxide risk situation, if mechanization is not possible, using a half mask with a connection that allows you to carry a catalyst in a backpack can be an effective solution. At Vallfirest we are working on a disruptive device for this type of situation. The world's only emergency respirator created specifically for wildland fires. And it will be available very soon, this year. We talk about the Xtreme K.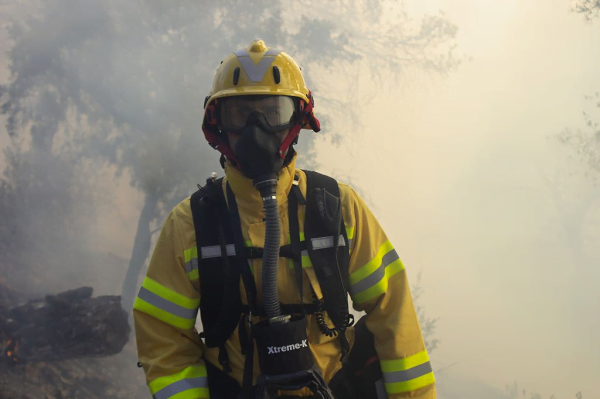 A.L: And the highest level of protection would be oxygen bottles?
S.P: The SCBA. Positive pressure. Products that offer complete insulation. Their negative point would be usability, since they need re-stamping and maintenance.
A.L: Does vehicle hygiene also influence pollution? All that mud and ashes that we carry with our boots and equipment to the truck, do they continue to contaminate us after the fire?
S.P: If it does not contaminate by inhalation, it will enter the integumentary system (the skin) which is porous and absorbs this type of peculiarities that are carcinogenic. Therefore it is very important to be aware and protect yourself. Wash cars well and decontaminate and protect the skin. It is another of the lines of work that we are developing in Vallfirest, for the time being, with the distribution of De-Wipe decontaminating wipes and Armadillo Merino thermoregulable clothing.
A.L: Is it possible to change these dynamics? Do we still have time to educate firefighters to learn how to take care of themselves?
S.P: Of course! With the Covid-19 we have all learned to wash our hands beautifully. It is time for us to do the same in wildland fires and advocate for respiratory and tegumentary protection. It is an investment in health.
Don't miss this and other great interviews on the Extremadura Fire YouTube channel
You can see the full interview here: