Wildfire has burned over 230 square miles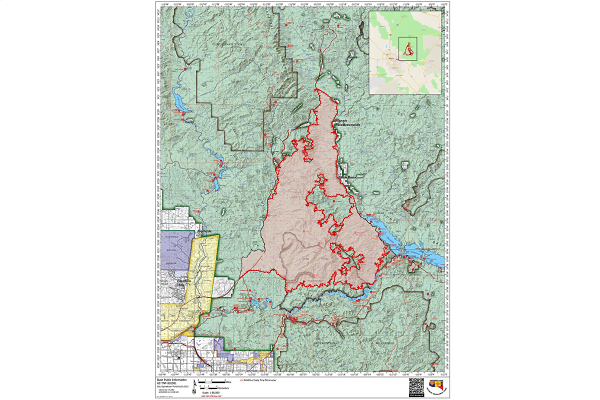 PHOENIX (AP) — A top-tier management team on Friday assumed command of firefighters battling Arizona's largest current wildfire, which continued to grow in east-central Arizona as crews worked to protect previously evacuated rural communities.
The multiagency team was assigned to the Bush Fire in the Tonto National Forest northeast of metro Phoenix because of the fire's complexity and because the team has more specialized and experienced personnel than the managers that were overseeing the effort, team spokesman Dee Hines said.
InciWeb: Bush Fire
The fire's size was estimated at 236 square miles (611 square kilometers) with containment around 7% of its perimeter as of Friday morning, up from 180 square miles (466 square kilometers) as of Thursday morning.
More than 850 firefighters and other personnel backed up by helicopters, bulldozers and fire engines were assigned to the so-called Bush Fire, which was started June 13 by a vehicle fire.
Firefighters planned Friday to work to protect structures in the small community of Sunflower and near other evacuated communities, fire managers said in a statement.
Other large fires continued burning in the Kaibab National Forest north of the Grand Canyon in northern Arizona and in the Santa Catalina Mountains in the Coronado National Forest near Tucson in southern Arizona.
The so-called Mangum Fire northern of the Grand Canyon was only 4% percent contained as of Friday. But fire officials said reduced winds and higher humidity helped firefighters make "great progress" as they cleared and strengthened containment lines, officials said in a statement.
Crews fighting the the so-called Bighorn Fire in the Santa Catalina Mountains planned Friday to extend containment lines between the fire and the Pinal County communities of Oracle and San Manuel located north and northeast of the fire.
The Bighorn Fire was 40% contained as of Friday. It earlier surged toward Oro Valley to the west, dipped into the Tucson's foothills to the south and swept around the community of Summerhaven atop Mount Lemmon in the center of the range.
All contents © copyright 2020 The Associated Press. All rights reserved.