March, April, and May through June 2020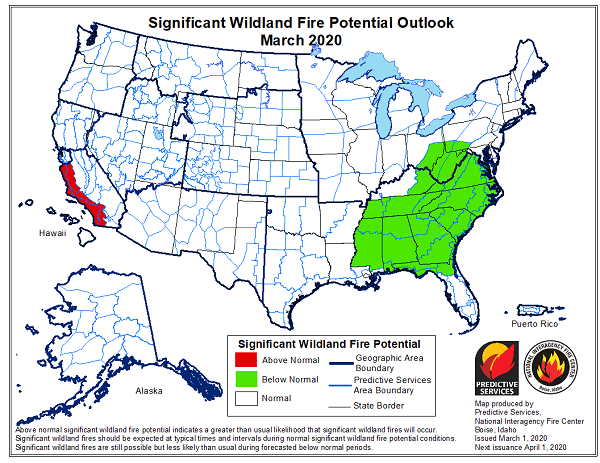 The significant wildland fire potential forecasts included in this outlook represent the cumulative forecasts of the ten Geographic Area Predictive Services units and the National Predictive Services unit.
National fire activity remained low in February as most of the country remained out of season. The previous month's progressive weather patterns stabilized as most locations along the West Coast became increasingly impacted by persistent high pressure ridges that promoted very dry conditions across California, northern Arizona, and the western Great Basin. Many locations across these areas received less than 25% of average precipitation for the month. Further inland, persistent troughs of low pressure promoted generally cooler than average conditions with above average precipitation along the Continental Divide. In the East, the presence of persistent troughs over the Great Plains promoted a warm and very moist southwesterly flow pattern. Most locations away from coastal areas received between 200% and 400% of average precipitation. Temperatures were nearly 6 degrees above average region-wide.
Mountain snowpack remained near to above average along the Canadian Border and Continental Divide. While the higher elevations across the northern Great Basin and eastern Oregon generally fared well, there were some areas that remained below average across southwestern Oregon and the Sawtooth Mountains of Idaho. The central and southern Sierra Nevada Mountains of California and Nevada continued to lose ground under very dry conditions. By month's end, several basins were reporting between 45% and 55% of average snowpack. In Alaska, the snowpack across the Interior was well above average while on the Kenai Peninsula and across the Chugach Mountains it improved to be between 57% and 100% of average.
Entering Marc hand continuing through April, the prolonged periods of dry conditions across Southern California may lead to periods of elevated fire potential during days experiencing offshore winds.However, a muted greenup should initially limit activity. Normal to Below Normal significant large fire potential is expected along the Rocky Mountain Front during the pre-greenup period due to sufficiently wet or snowy conditions experienced during late winter.
Both the Southwest and Alaska will gradually transition into fire season in May with both regions peaking in activity by late June. Overall Normal significant large fire potential is expected during the period except possibly across northern and western portions of Arizona and across portions of South Central Alaska including the Kenai Peninsula where conditions were drier than average over the past winter.