When you have to bring water and you can't drive in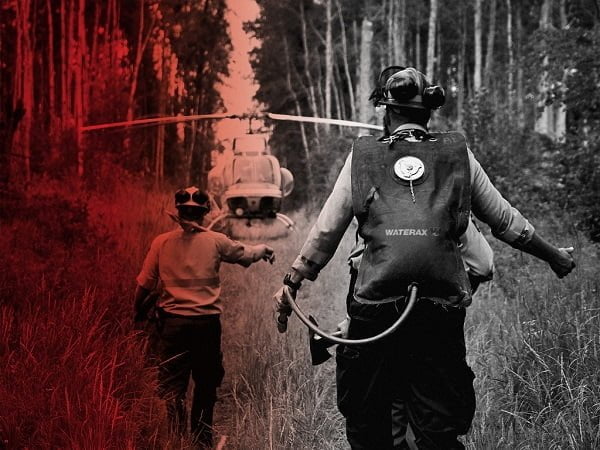 Firefighters and fire crews working in the wildland urban interface sometimes are not able to take motorized vehicles into an area where fire needs to be extinguished and instead must rely on bringing water to the fire through the tried-and-tested method of backpacking water into the scene. Many times, firefighters choose one of the three WATERAX-built BACKPAX™ series water backpacks to accomplish the task.
The WATERAX VPO-1X, a collapsible five-gallon bag, is the latest backpack hand pump to join the BACKPAX series, according to Zach Grigg, WATERAX product specialist. He notes the bag is constructed of lightweight, heavy-duty polyester fabric encased in vinyl for superior puncture and abrasion protection. Seams are reinforced in high-impact and high-wear areas to eliminate the possibility of leaks.
Grigg says the VPO-1X includes the WATERAX HPC-X brass hand pump, which features a sturdy nylon rear pistol grip and a grooved forward rubber grip that make operating the hand pump easier on the wrist and require less effort than standard hand pumps; a combination nozzle tip, allowing for a quick switch from straight stream to spray without tools; and a positive shutoff and locking feature that prevents leaking at any angle.
Another all-new feature on the VPO-1X, Grigg points out, is the WATERAX-designed shoulder straps that provide users with enhanced comfort and safety. "The cushy padded straps provide superior load support and are made with breathable materials for cool and dry operations," Grigg says. The shoulder straps have multiple adjustment straps for a custom fit, a chest strap to distribute pressure, heavy-duty fastening clips, and Scotchlite® reflective strips for increased visibility.
"The BACKPAX™ series backpacks are great to use in an initial attack when you don't have time to set up a water supply," Grigg points out. "You can hold off a portion of the fire with them while waiting for a greater water supply. And they are lighter to carry and easy to load into helicopters."
The WATERAX HPO-2X collapsible backpack with a HPC-X brass hand pump is similar in design to the VPO-1X, Grigg says, but made of a different material. "The HPO-2X is made of durable nylon fibercoated with neoprene," he notes. "The neoprene bag is UV resistant, offers exceptional abrasion resistance, and can easily be repaired in the field with standard tire patches."
WATERAX also makes the new OT-4NX, a modernized backpack pump conceived with the comfort and safety of the user in mind, Grigg says. "The tank is made of lightweight, rugged UV-resistant polyethylene, making it easier to carry without compromising on durability," he says. "Ergonomics can be felt through the sleek contours of the tank, the integrated lumbar support, and the new WATERAX shoulder straps. The OT-4NX has a robust carrying handle that makes for easy lifting and also serves as a port where the hand pump can be neatly docked. The large-diameter filler neck allows convenient filling and cleaning access and features a filler strainer to capture and prevent unwanted particles from entering the hand pump's water supply."
Grigg points out that all three of the BACKPAX series units are designed to be lightweight, compact, and efficient in conserving water and putting it right where you want it to go."Sometimes, firefighters will use a little bit of foam concentrate in their backpacks," he notes, "to break the surface tension of the water and to allow it to absorb more efficiently into the ground."
This wildland fire crew is outfitted with WATERAX HPO-2X collapsible backpacks with brass hand pumps. (Photos courtesy of WATERAX.)
Wildland firefighters head toward the fire line wearing the WATERAX OT-4NX polyethylene backpack with brass hand pump.
A wildland firefighter wearing a WATERAX HPO-2X collapsible backpack with a brass hand pump wets down hot spots as other firefighters dig out embers.
A close-up look at the WATERAX OT-4NX polyethylene backpack with brass hand pump.
ALAN M. PETRILLO is a Tucson, Arizona-based journalist, the author of three novels and five nonfiction books, and a member of the Fire Apparatus & Emergency EquipmentEditorial Advisory Board. He served 22 years with the Verdoy (NY) Fire Department, including in the position of chief.