The new "Super-6s" will be equipped with two pumps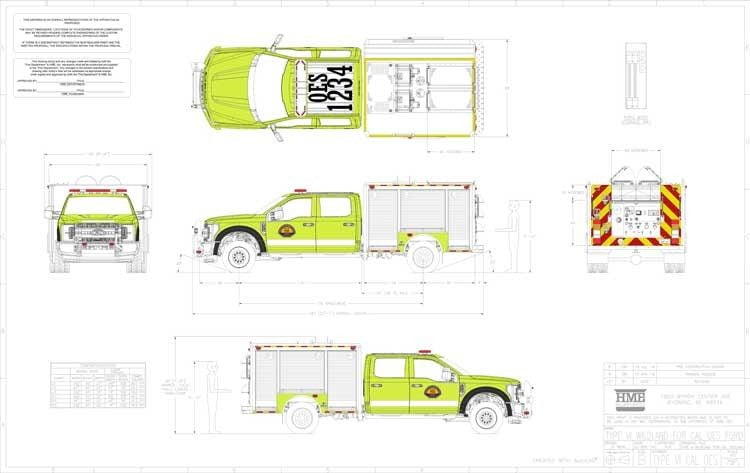 – New Type 6 Wildland Apparatus offer increased pump capacity and rescue functionality.
– Three-year contract begins spring of 2020 with delivery of first 81 units.
– HME Ahrens-Fox Type 6 Wildland Apparatus will be available to all California government agencies and institutions under terms of the DGS contract.
– Contract continues long-term HME Ahrens-Fox/Cal OES relationship.
Grand Rapids/Wyoming, MI—HME Ahrens-Fox has announced that it has been awarded a 3-year contract by the Department of General Services (DGS), through competitive bid, for the manufacture and equipping of a new edition of the Cal OES Type 6 Wildland apparatus. Production of the new Type 6 Wildland apparatus will begin in the spring of 2020 with the initial delivery of 81 units. The new Type 6 Wildland apparatus will also be available for purchase by all state agencies and institutions under the terms of the DGS contract.
HME Ahrens-Fox engineers and designers worked with Cal OES to develop an enhanced version of the traditional Type 6 Wildland apparatus with the capability to deliver additional fire suppression, more equipment storage capacity, and specialized power extraction and rescue tools.
OES Fleet Operations Deputy Chief Steve Hart has described this new Type 6 as a "Super-6"
Because of its overall improved functionality and features. The new "Super-6s" will be equipped with two pumps, a midship single-stage pump capable of 500-gpm performance, along with a portable diesel pump delivering 200 gpm, plus a 300-gallon water tank. The Super-6s will also incorporate an exclusive Ahrens-Fox foam system with a 20-gallon foam tank. Controls for the pumps and foam system are located at the rear of the vehicle.
Two booster reels, positioned on top of each side of the stainless-steel body, provide expanded pump-and-roll capability. One 300-foot reel of 1½-inch hose, and a 150-foot reel of 1-inch hose allow the Super-6 to operate effectively in both red and black zones while improving the trucks' role in interface operations as well as wildland and brush fire applications.
The stainless steel, wildland style body has been expanded from previous Type 6 designs to match the larger storage capacity offered in the HME Ahrens-Fox MiniEvo™. The taller and expanded body features hard cover hosebed compartments, on top of the water tank, to protect hoses in burning canopies encountered in interface and wildland environments. The increased storage capacity, with pullout trays, shelving and tool boards, provides room for additional equipment and gear. The Super-6s will be delivered with a full complement of the advanced power extraction and rescue tools including spreaders and cutters, again enhancing versatility for a wide range of rescue operations. The trucks will also be equipped with a ladder stored in dedicated compartment. The corrosion resistant body incorporates HME Ahrens-Fox industry standard modular, aircraft quality construction for fast and economical repairs.
Special "Super-6" features include an electromechanical Screaming Eagle siren that projects sound forward, rather than producing a wall of sound. The siren reduces backwash in the cab. The forward focused siren provides better penetration at intersections, a real benefit for initial attack trucks like the Super-6. The Super-6 also incorporates a traditional electronic siren. The contract for the Super-6s continues a long relationship of apparatus development and production between HME Ahrens-Fox and Cal OES.
"HME started developing and supplying chassis (the original HME SFO® Short Front Overhang) for Cal OES in the late 1990's," noted HME Ahrens-Fox Vice President of Engineering, Ken Lenz. "Since then, we have continued to evolve with OES, and state fire agencies, to meet the need for efficient, complex and specialized apparatus to protect lives, property and wildlands for the residents of California. To date, we have supplied California with over 150 Type 1 interface, 300 Type 3 wildlands, and most recently, 12 hazmat handling team rescues. Our long-term working relationship continues today with the introduction of the new 'Super-6', Type 6 Wildland."
For more information, visit www.firetrucks.com.