Governor warns residents to do their part to prevent fires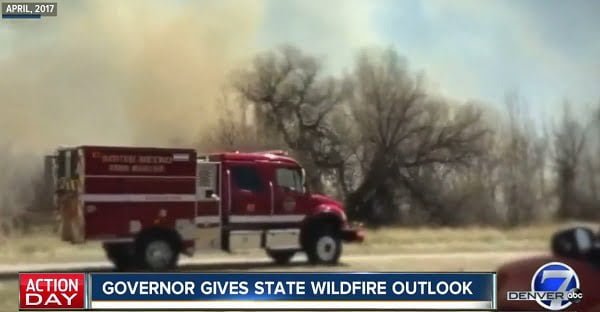 (The Denver Channel/YouTube)
CENTENNIAL, Colo. (AP) — Forecasts indicate Colorado could be in for its worst wildfire year since the historic fire seasons of 2012 and 2013, leading Gov. John Hickenlooper and fire officials to warn residents on Friday to do their part to help prevent fires.
An abnormally dry winter left the statewide snowpack 68 percent of average, with conditions in the northern mountains better than in the south.
Hickenlooper said the state is better prepared than ever to fight wildfires because of increased funding and cooperation in the wake of massive blazes like the 2013 Black Forest Fire in El Paso County destroyed nearly 500 homes, the most by a wildfire in state history. The previous year, the Waldo Canyon Fire also destroyed hundreds of homes.
Those and other fires led lawmakers to spend nearly $20 million in 2014 to buy two fire-spotting planes and contract helicopters and single-engine tankers to try to stop fires early before they grow and threaten homes.
The fire outlook was released as a storm brought snow to the mountains and plains, but Hickenlooper warned people should not think small bursts of moisture would ease the danger. He urged people to follow fire restrictions, a message echoed by Mike Morgan, director of the Division of Fire Prevention and Control.
"We're all in this together. We live in the most beautiful state in my opinion in the nation and we have to all do our part to protect that and the quality of life that we enjoy here," Morgan said.
Colorado could be in for worst fire season since '12, '13, The Denver Channel

Dry, windy weather is blamed for several grass fires this spring, including one that forced the evacuation of the small town of Boone Thursday.
Last month a fire ignited by an Army training exercise using live ammunition on Fort Carson spread to private land, destroying two homes. In early April, a wildfire near Grand Junction destroyed at least one home.
The winter was dry over much of southern Colorado, and by Thursday the U.S. Drought Monitor classified conditions as a severe or extreme drought. Those are the third- and fourth-worst categories in the five-step scale used by the Drought Monitor, which is operated by federal weather and agricultural agencies.
The conditions were caused in part by the second consecutive La Nina year, said Klaus Wolter, a climate scientist with the Cooperative Institute for Research in Environmental Sciences in Boulder.
La Nina is a phenomenon caused by a cooling of the central Pacific, changing weather worldwide.
"In a second-year La Nina, it really tilts the odds toward dry conditions overall," Wolter said in an interview Thursday, before the state issued its fire outlook.
Worse, a warm winter caused snow at the lower mountain elevations to melt early, which could worsen the danger because that's where most wildfires occur, he said.
Wolter said conditions could improve before the hotter summer months.
"I'm not convinced we have seen our last snow," he said. "It's not all doom and gloom. It's just not a good setup."
All contents © copyright 2018 Associated Press. All rights reserved.