32-year-old Cal Fire engineer died of burns and smoke inhalation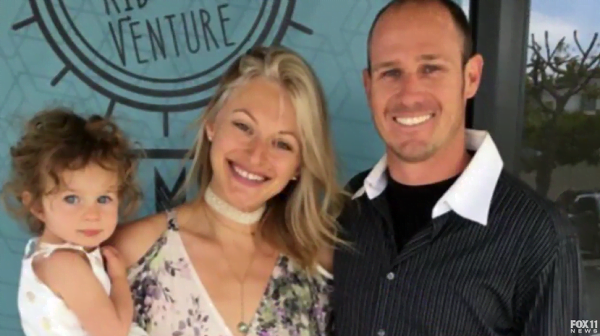 AN DIEGO (AP) — A state firefighter who died battling the largest wildfire recorded in California's modern history was remembered Saturday as a devoted family man who didn't hesitate to do his job, no matter the danger.
"When Cory decided he wanted something, he got it. When there was a job to be done, he did it and 10 more," Ashley Iverson told mourners inside Rock Church in San Diego.
Gov. Jerry Brown joined family, friends and colleagues honoring Cory Iverson. A container with Iverson's ashes stood on the flower-decorated speakers' platform and Iverson's smudged firefighter's coat was displayed during the service. A bagpiper played "Amazing Grace."
The 32-year-old Cal Fire engineer died of burns and smoke inhalation on Dec. 14 while tackling the Thomas Fire that burned more than 700 homes in Santa Barbara and Ventura counties.
Details of what led to his death haven't been released.
Iverson, an Escondido resident who was with a San Diego-based strike team, left a 2-year-old daughter, Evie, and wife Ashley Iverson is expecting their second child.
She praised her husband as a "superhero."
"He provided me with the greatest gift of all: love," she said. "He was the greatest father to his Munchkin, and the most devoted man I know."
The fire is blamed for the deaths of Iverson and that of a 70-year-old Santa Paula woman who was killed in a car crash on an evacuation route.
The Thomas Fire that began on Dec. 4 was fueled by ferocious winds that drove it through neighborhoods, foothills and into national forest land. As of Saturday it had blackened 273,400 acres (427 square miles).
More than 2,500 firefighters were still tackling the fire, which was 65 percent contained. Fire officials said the blaze was no longer an imminent threat to homes but was burning in remote, rugged wilderness.
All contents © copyright 2017 Associated Press. All rights reserved.