Engineer is the second wildfire fatality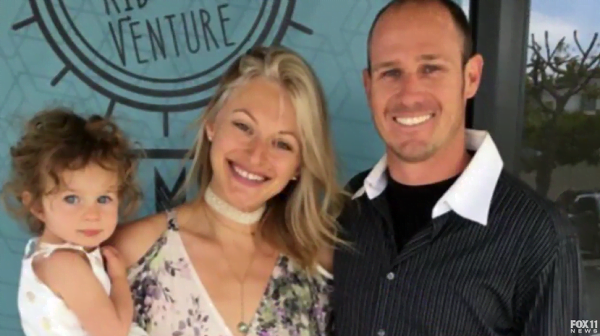 (FOX 11)
SANTA BARBARA, Calif. (AP) — One of the thousands of firefighters battling a series of wildfires across Southern California has died, but authorities gave no hint of how.
San Diego-based Cory Iverson was assigned to the blaze northwest of Los Angeles, which has become the fourth largest in California history. Iverson, 32, was an engineer with a state fire engine strike team. He died Thursday.
Dozens of police and fire vehicles escorted a hearse carrying Iverson's flag-draped body to the county medical examiner's office in Ventura.
Iverson had been with the state since 2009 and is survived by his pregnant wife and a 2-year-old daughter, said Fire Chief Ken Pimlott of the California Department of Forestry and Fire Protection.
San Diego firefighter dies battling California's 4th largest fire in history, FOX 11

Fire Engineer Cory Iverson was killed battling a massive blaze northwest of Los Angeles that is now considered to be California's fourth largest wildfire in the state's history, fire officials announced Thursday.
It was the second death linked to the fire. A 70-year-old woman was killed in a car crash while evacuating as the fire raged last week. Her body was found inside the wrecked car along an evacuation route.
Pimlott did not provide any details about Iverson's death but said it was under investigation by an accident review team.
A return of gusty Santa Ana winds brought renewed activity to inland portions of the so-called Thomas Fire straddling coastal Ventura and Santa Barbara counties.
Pimlott said he was "deeply saddened" by Iverson's death but added that fire crews were continuing to focus on their mission.
"The firefight in front of us continues to go on. The communities we are protecting are depending on us and we will not fail," he said at an afternoon news conference.
Authorities said it now covered 379 square miles (982 square kilometers). That surpassed a blaze that burned inland Santa Barbara County a decade ago.
Firefighting costs so far were tallied at $74.7 million, according to Cal Fire.
Some evacuations were lifted and the risk to the agricultural city of Fillmore was diminishing. But coastal enclaves to the west remained under threat as crews protected hillside homes in Montecito, Summerland and Carpinteria.
The National Weather Service said extreme fire danger conditions could last through the weekend due to lack of moisture along with a likely increase in wind speeds.
Firefighters made some progress Wednesday on corralling the fire, which continued to spread mostly into national forest land.
Since the blaze broke out on Dec. 4, it has burned destroyed 970 buildings — including at least 700 homes. Flames threatened some 18,000 buildings and prompted evacuations of about 100,000 people. Covering more ground than the city of San Diego, it was 35 percent contained.
___
For complete coverage of the California wildfires, click here: https://apnews.com/tag/Wildfires.
All contents © copyright 2017 Associated Press. All rights reserved.