Entire city of Williams Lake ordered to evacuate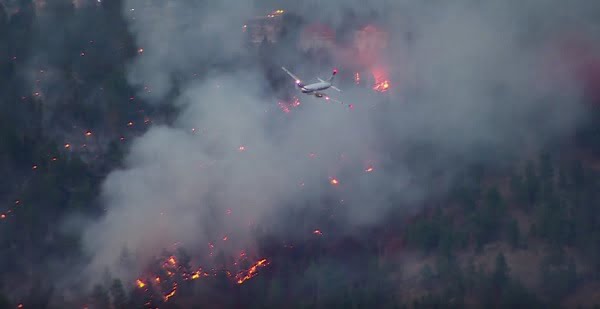 CBC News video
KAMLOOPS, British Columbia (AP) — Fast-moving wildfires in British Columbia have forced nearly 40,000 people to leave their homes and residents are flooding into crowded evacuation centers amid a provincial state of emergency.
Federal Public Safety Minister Ralph Goodale announced Monday that Ottawa was deploying military aircraft and Australia was sending 50 firefighters to battle the wildfires. A group of elite Nova Scotia firefighters will also join the front lines.
Speaking in Pilot Butte, Saskatchewan, Goodale said 500 additional Royal Canadian Mounted Police officers have also been sent in to assist with evacuation and police communities when they have been cleared out.
More than 3,000 staff, including firefighters, support staff and 450 personnel brought in from other provinces, are hard at work, said BC Wildfire Service chief information officer Kevin Skrepnek.
Goodale said the fires were expected to worsen.
B.C. Wildfires: CBC Vancouver News special coverage

The entire city of Williams Lake, six hours northeast of Vancouver, was ordered evacuated on the weekend. The community has a population of over 10,000.
Wind over the weekend also caused a flare-up of a huge fire that started near the Ashcroft Indian Band reserve, which has charred just over 154-square miles (400-square kilometers) west of Kamloops.
Near Kelowna, about 60 homes remained on evacuation alert in the community of Lake Country after a human-caused fire was sparked Friday, destroying eight homes.
What's made the the B.C. wildfires so severe? The National

Officials say they are beginning the difficult process of notifying those who have lost homes.
Cariboo Regional District chairman Al Richmond said Monday that teams have gained access to areas where houses and other buildings have been destroyed northwest of 100 Mile House.
Crews are also working to restore electricity, telephone service and other infrastructure in regions evacuated after the fires broke out July 6.
"Our staff is actively engaging in the south Cariboo to look at re-entry plans for our residents, should they be able to return home," Richmond said, although he cautioned return could be "a ways off."
All contents © copyright 2017 Associated Press. All rights reserved.