Figures show a 36.5 percent drop in revenue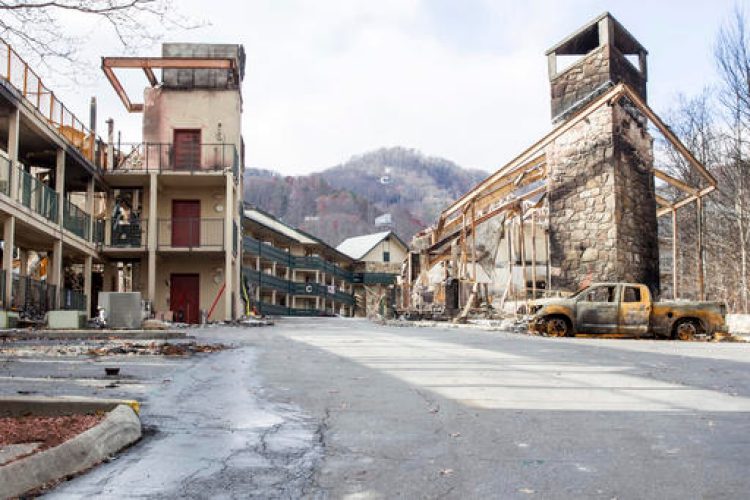 Fire damage to the Laurel Point Resort in Gatlinburg, Tenn., is seen on Friday, Dec. 9, 2016. Gatlinburg reopened to the public for the first time since fatal wildfires spread to the city on Nov. 28. (AP Photo/Erik Schelzig)
STEVE AHILLEN, Knoxville News-Sentinel
The tourism business in Gatlinburg took a $19 million hit in December, and stores, restaurants and hotels chasing visitor dollars are still struggling to recover following the Nov. 28 firestorm.
Responding to a Knoxville News Sentinel request, the Gatlinburg Convention and Visitors Bureau released figures that show a 36.5 percent drop in the month's tourism revenue, comparing December 2015 and the same month in 2016.
Those dollar numbers indicate $32,992,914 total gross income in business for December of last year, compared with $51,952,882 for the same month in 2015.
Despite the drop, the annual figures for 2016 indicated a 4.33 percent rise from 2015, from $620.7 million to $647.6 million.
The city's iconic candy shops did not escape the suffering.
"We were closed for nine days after the fire," recalled Scott Rowe, manager of Aunt Mahalia's Candies, which has been open in Gatlinburg since 1939. "We actually did really good that first weekend we were open after the fire, but it kind of faded after that.
"The week between Christmas and New Year's is one of our two busiest weeks of the year, and it wasn't what it should be (in 2016)."
Rowe said the sluggish traffic has carried over into 2017. He said Aunt Mahalia's intake has been off 36 percent in January and February.
"I have talked with a bunch of other business owners, and that is pretty consistent with what they are seeing," he said.
When asked what he suspects is the cause, Rowe responded: "Someone mentioned that they Googled Gatlinburg and the first three pages were all about the fire. It takes a while before you get to anything positive on the web. They don't realize that most of what was burned was residential. They think the whole town is gone."
Rowe said the candy stores have been buoyed by their online sales, which went up in the days after the fire mainly from people wanting to help in the recovery effort.
"I had a guy from Home and Land (real estate magazine) come in here and buy $5,000 worth of candy for his employees and others," he said. "That was totally unexpected."
Patsy Reagan at Ole Smoky Candy Kitchen, open since 1952, said the same: "We had a lot of mail order business. We had to bring four girls in here instead of two like we usually have for about three weeks after the fire to handle it."
She said she hasn't noticed a huge slowdown in foot traffic.
"Our business is doing OK," she said. "Even after the fire we still had people. People would come to see how we were doing and purchase something."
This is a traditionally slower time for Gatlinburg tourism, and Rowe is hoping things will get back to normal once tourism season starts.
"We had a really good weekend last weekend," he said. "The weather was beautiful and there was a promotion going on at Ripley's (Aquarium of the Smokies). Maybe once it starts to get pretty and the kids come back for Spring Break, things will take off."
Rowe said the crowds usually start showing up the second week of March until Easter, then they drop off before picking up again in the summer.
Most damaged was the hotel/motel business, which was off 51 percent from $16 million for the month in December 2015 to $7.8 million in 2016.
The Park Vista has the most rooms of any hotel or motel in Gatlinburg with 300. The 16-story building was closed until Dec. 21 after suffering some fire damage.
Numerous other motels and hotels were among the 2,400-plus structures in Sevier County greatly damaged or destroyed in the fire.
Copyright © 2017 LexisNexis, a division of Reed Elsevier Inc. All Rights Reserved.