The problem with drones and wildland fires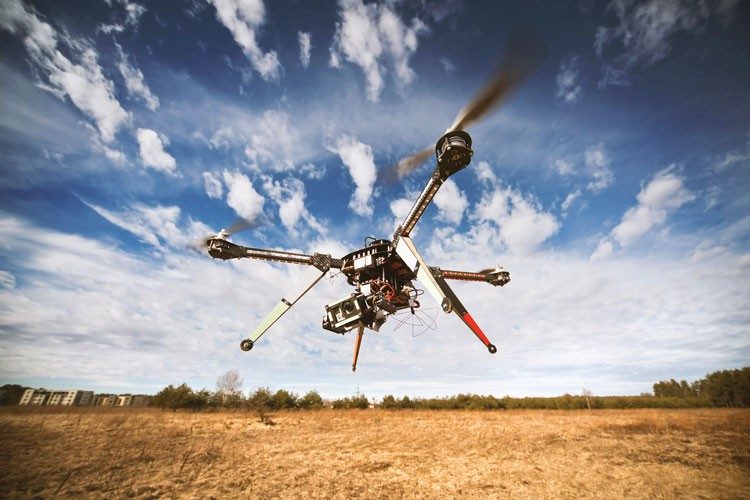 The camera-mounted mini-aircraft are popular for getting a look at areas that might otherwise be difficult to access or restricted for people. (Photo by iStock.)
By Shannan Mills | FireRescue Magazine January 2017
As the newest tech toys on the market, drones are quickly becoming a must-have purchase for those looking to see the world from a different point of view. The camera-mounted mini-aircraft are popular for getting a look at areas that might otherwise be difficult to access or restricted for people, and while this can be harmless fun, in some cases personal drone use can be considered dangerous or even illegal. One of those situations involves flying drones over wildfires, and with the prevalence of wildland fires in the past few years, spotting drones over the flames is becoming unfortunately common. In 2015, there were at least 20 documented instances of unauthorized drone flights over or near wildfires across the United States, and the trend doesn't seem to be decreasing this year.
Firefighters may already be well aware of the risks, but it's also necessary to educate the public on why and how drones can pose a risk to wildland fires. That epic shot for Instagram isn't worth hampering firefighting efforts, especially when every second counts-and it could end up being a costly error for drone owners. Here's what the main issues are with drones flying near or over wildland fires and what (if anything) can be done to stop them.
The Issue with Drones and Fires
To the average citizen, a huge wildland fire might be considered an exciting event. It sometime seems worth taking a risk to get the perfect photo or video footage. And drones have changed that. Now, you can remain a safe distance from the fire and still get a bird's-eye view of what's happening down below. And in a culture where photos and videos can go viral for likes or online popularity, a massive wildfire can seem irresistible to would-be photographers or videographers looking for news footage.
But the fundamental problem with this is that drones flying in the same airspace as aerial firefighting craft pose a threat to pilot safety. If a drone crashes into an aircraft, there could be an accident given the fact that pilots often cannot see the small aircraft; plus, helicopter rotors are particularly susceptible to colliding with drones. For these reasons, if a drone is spotted in the vicinity of a wildland fire, firefighting efforts will need to be delayed-and that means the fire has more time to spread.
Here's a real-world example from the St. George News in Utah. In June, aerial firefighting efforts needed to be suspended because of a drone sighting in the area of a fire, the third instance of a drone grounding fire suppression in Utah in 2016. The drone sighting in this case came at a "crucial moment" when the aircraft were about to drop retardant on the wildland fire. Instead, the firefighting planes needed to be grounded until the drone intrusion was resolved. In a region with so many wildfires, jeopardizing the firefighters and their efforts becomes dangerous for both the people and the land itself.
Since drone technology is so new, law enforcement is still discovering how to prevent and prosecute individuals who fly drones into restricted airspace. It's not just airports and pilots in danger, it's firefighters attempting to stop wildland fires as well. At the very least, it makes a firefighter's job more treacherous, and the fire can then continue to spread while aircraft are grounded.
Preventive Measures
In cases like the ones in Utah, there are already laws in place to prevent and deter unmanned aircraft operators from unintentionally interfering with firefighting efforts. "Temporary Flight Restrictions (TFRs), typically put in place during wildfires, require manned or unmanned aircraft not involved in wildfire suppression operations to obtain permission from fire managers to enter specified airspace," an article at KIVI-TV states.
"The FAA, U.S. Forest Service, U.S. Department of the Interior, and other wildland fire management agencies consider drones-including those used by the public for hobby and recreation purposes-to be aircraft and therefore subject to TFRs." That means that if you're caught flying a drone in the airspace surrounding a wildland fire, you could end up being prosecuted.
It isn't a light penalty, either. According to the laws in Utah, it's a class B misdemeanor to operate a drone over or near a wildfire, and fines can range from $1,000 up to $25,000. If the drone ends up flying into an aircraft, always a possibility given that drone operators cannot always maintain a safe distance, it's a second-degree felony, which comes with a potential criminal prosecution.
However, there are issues with identifying drone ownership. Anyone with a personal drone can fly it over or near a wildfire, but it's not so easy to identify the owner or operator. A drone can quickly slip away, and footage can be posted online anonymously or in a way that's difficult to track. As a means of prevention, fire and law enforcement personnel are looking to educate people on proper regulations surrounding drone use. A campaign called "If You Fly, We Can't" was launched in summer 2015 to help teach drone operators to keep their distance in the event of a wildfire. KIVI-TV adds that there's also a new smartphone app available that allows drone operators to scan the region and find out if there are any current flight regulations in place.
In the meantime, more drastic measures are being taken in Utah. According to another piece from the St. George News, legislation voted to allow fire and law enforcement officials to "neutralize" any drones spotted flying in the restricted airspace around wildland fires. That doesn't mean that the drones will be shot down, which can create additional airspace issues. Instead, the news article explains that "there are electronic means available that would allow officials to take down the drone in such a way that it wouldn't be a danger to other aircraft or people on the ground."
Maintain Airspace Avoidance
Although legislation is going a long way toward deterring drone operators from flying aircraft over fires, it remains difficult to identify operators who flout the regulations, whether knowingly or unknowingly. That's why it's up to everyone to educate themselves and others on the dangers of drone use near wildfires. The further the awareness spreads, the better chance firefighters have of staying safe while doing their job-or simply doing their job, period.
Shannan Mills was hired as an administrative assistant in 2002 and quickly moved into a new role as marketing coordinator. Throughout the years, she learned that the wildland firefighting market and customers were her true passion and in September of 2013 she was promoted to division manager for National Fire Fighter Wildland Corp. In her role as division manager, Mills focuses on helping the company best serve the wildland firefighters who protect our lands and homes and growing the wildland firefighting market.